Exclusive! Luxurious and modern semi-detached house with sea view - under construction - under construction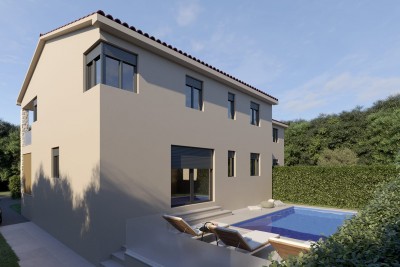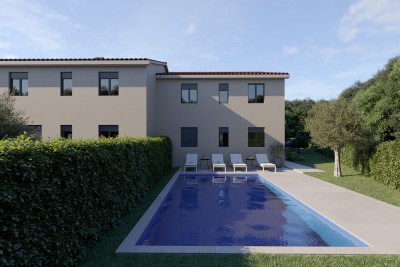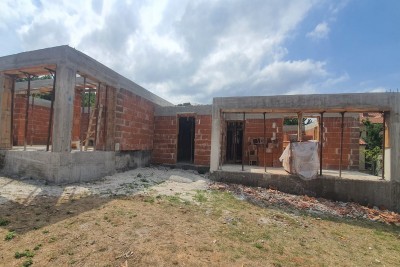 Code :

00933

Location :

Poreč

Building size :

140 m2

Lot size :

765 m2

Distance from center :

500 m

Distance from sea :

10000 m

Number of floors :

1

Number of rooms :

7

Number of bedrooms :

3

Number of bathrooms :

3

Seaview :

Yes

Swimming pool :

Yes

Parking :

Yes

Basement :

Yes

Year of construction :

2023

Energy efficiency :

Not specified
Istria, Porec

In the surroundings of Poreč, in a quiet settlement just a few minutes' walk from all essential amenities such as shops, post offices, banks, kindergarten, school, etc., and close to the entrance/exit to the highway, is located this beautiful semi-detached house with a swimming pool and a fantastic view of sea.

The house consists of two floors of regular shapes perfectly integrated into the space.
On the 1st floor there is a living room, kitchen, dining room, toilet and a small corridor with a staircase, and a small storage room is also possible. From the first floor there is access to a beautifully designed and designed courtyard dominated by a 5mx4m swimming pool.
We climb the elegant staircase to the 2nd floor, where there are 3 bedrooms, each with its own bathroom, and a terrace with a fantastic view of the sea and the surrounding area.

The house will be heated under the floor with a heat pump and all rooms will be equipped with additional air conditioning for cooling/heating.
The parking lot will be enough to park 2 cars.
The planned construction completion date is August 1, 2023. and in this phase, the future owner is enabled to choose ceramics and laminate.

Due to its location and quality of construction, this property is ideal for anyone who wants to solve their housing problem or as an investment through a tourist rental.
View all Real estates Poreč
NOTE: We do not answer any possible errors in property descriptions, but we want to be as precise and accurate as possible. Agency commission is 3%.